.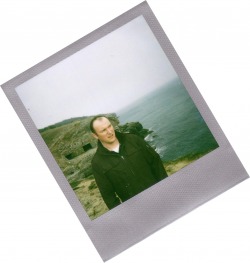 I was born in Bromsgrove, Worcestershire in 1973. By all accounts, the 1970's were great. I had a kidney removed in Birmingham Children's Hospital at the height of the IRA bombings. Yes, times were good.
However, I grew up on the south coast of England and went to school in Dorset.
In my mid-teens I packed frozen poultry for Chinese restaurants, moulded sausage meat around scotch eggs in a local factory and wrote depressing poetry. I left school in 1992 and worked as a Quantity Surveyor whilst studying part-time for my degree. In 1997, I became a Bachelor of Science and took up a full-time position as a surveyor in Salisbury working on various projects throughout the South of England.
I quit my job in 2003 to travel the world. Starting in India, I journeyed through Asia, Australasia and the United States before eventually returning to the UK in 2004. Whilst in Wellington I was involved in the writing and production of a short film for the New Zealand 48-hour film festival. My travels inspired my second book, Worlds Apart.
Since then I've moved to Scotland and completed a script writing course at Edinburgh University. My third novel, Digging Deeper, has been converted into a film script and I've been involved in the writing and production (not to mention acting) in a number of short films.
CHILDREN'S BOOKS

The Escape Peas

The Brussel ScoutsNOVELS12 MonthsWorlds ApartDigging Deeper
FILMS
The Hunt (2014)
Writer, Director, Producer, Editor and Actor
Consequences (2014)
Writer, Director, Producer, Editor
The End of the Line (2013)
Director, Producer, Editor
The Nolans (2013)
Winner of Best Practical Effects
Writer, Director, Producer, Editor and Actor
Looking for Love (2012)
Director, Producer, Editor and Actor
Mystic Nightmare (2012)
Writer, Director, Producer, Editor and Actor
Directions
(2012)
Director & Editor
G in the Park
(2011)
Writer, Producer, Director, Editor and Actor (as himself)
The Package
(2011)
Writer, Producer, Director, Editor and Actor
Pinstripe
(2009)
Co-writer, co-producer, co-editor and Actor
Roberta Darling's Recipe for Success
(2008)
Winner of Best Cinematography, Best Musical Score and Best Costume
Co-writer, Producer and Actor
Putting Dolly Down
(2004)
Co-writer and Actor
FILM SCRIPTS

Digging Deeper
(Feature length)
Semi Finalist, Shore Script Competition 2014Quarter Finalist, Slamdance Screenplay Competition 2011
Final Selection Round, British Independent Film Festival 2012
Gore and Peace
(Feature)
Semi Finalist, Shore Script Competition 2016
The Box Tin
(Short)
Shortlisted to final 4 in the Bongo Reef "Losing the Plot" Competition 2008
Pruned
(Short)
---